Wild and Brown Rice A perfect side dish for game birds. May be prepared ahead of time and microwaved just prior to serving.
Ingredients
Original recipe yields 12 servings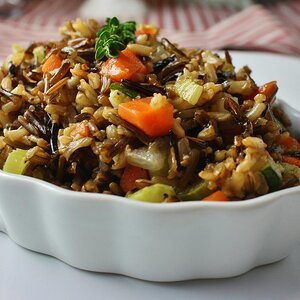 In heavy saucepan, soak wild rice in boiling water for 30 minutes. Drain; rinse thoroughly.

Advertisement

In large skillet or Dutch oven, combine drained wild rice, brown rice, onion, carrots, celery, chicken broth, thyme, marjoram, salt, and black pepper. Bring to a boil over high heat.

Reduce heat to low and simmer, covered, until rice is tender and liquid is absorbed, 50 to 60 minutes.
Per Serving: 147 calories; protein 4.9g; carbohydrates 30.1g; fat 0.9g; cholesterol 2.3mg; sodium 549.7mg. If you're not serving the rice immediately, transfer it to a 3-quart microwaveable bowl and refrigerate, covered, until ready to serve. To reheat: microwave, still covered, at full power until heated through, about 10 minutes, stirring after every 4 minutes.