Toronto Chicken Shawarma A healthy, serve-at-home version of a popular Toronto street treat.
Ingredients
Original recipe yields 4 servings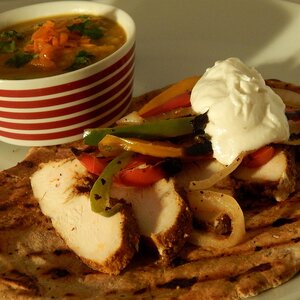 Preheat an indoor or outdoor grill for high heat, and lightly oil the grate.

Advertisement

Whisk together the coriander, cumin, cardamom, chili powder, grill seasoning, paprika, and turmeric in a bowl; whisk in juice of 1/2 lemon, garlic, and 3 tablespoons olive oil to form a paste. Coat the chicken breasts with the spice paste.

Grill chicken breasts on the preheated grill until juices run clear and chicken is no longer pink at the center, about 6 minutes per side. Transfer chicken to a plate and cool for 1 to 2 minutes; slice thinly.

Heat 2 tablespoons olive oil in a large skillet over medium-high heat. Stir onion, red pepper, and yellow pepper into the hot olive oil; season with salt and pepper. Cook, stirring frequently, until the vegetables are tender, about 5 minutes.

Stir together Greek yogurt, tahini, juice of remaining 1/2 lemon, and remaining 1 teaspoon olive oil in a bowl until smooth; season with salt.

Place pitas on the grill until heated through and lightly charred on the outside, about 1 minute per side. To assemble each sandwich, place some sliced chicken on each pita; top with some of the pepper mixture and a good dollop of yogurt tahini sauce.
Per Serving: 737 calories; protein 49.1g; carbohydrates 46.4g; fat 39.6g; cholesterol 113.8mg; sodium 1133.4mg.