Spicy Honey-Lime Chicken Thigh Kebabs The flavors of summer come alive in these colorful grilled kebabs, complete with a kick of heat from the Sriracha and sweetness from honey. If using wooden skewers, soak in water for 30 minutes prior to using to prevent burning. Serve over rice and garnish with lime zest if desired.
Ingredients
Original recipe yields 4 servings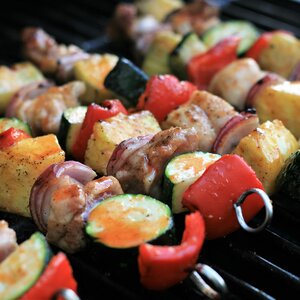 Preheat an outdoor grill for medium-high heat and lightly oil the grate.

Advertisement

Whisk honey, Sriracha sauce, and lime juice together in a small bowl. Set aside.

Thread chicken, red pepper, zucchini, pineapple, and red onion alternately onto skewers and place on a platter. Brush with olive oil, then season with salt, pepper, and garlic powder.

Arrange skewers on the hot grate. Close lid and reduce heat to medium. Grill until chicken is cooked through, turning skewers every few minutes, 15 to 20 minutes. Brush glaze on all sides of skewers during the last 2 to 3 minutes, turning to lightly caramelize glaze. Transfer to a serving platter and grate lime zest on top. Serve warm.
Per Serving: 360 calories; protein 20.5g; carbohydrates 28.7g; fat 18.7g; cholesterol 70.4mg; sodium 428.5mg.