Spicy Ginger Cookies These are our traditional Christmas cookies. The shortening keeps the cookies soft; all butter will result in a harder cookie.
Ingredients
Original recipe yields 48 servings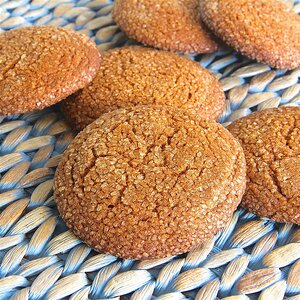 Preheat oven to 375 degrees F (190 degrees C).

Advertisement

Whisk brown sugar, shortening, butter, molasses, eggs, baking soda, cinnamon, ginger, salt, cloves, and cayenne pepper together in a large bowl until glossy; fold in flour until dough is just-combined.

Pour coarse sugar into a shallow bowl. Roll dough into 48 balls. Roll balls in sugar and place 2-inches apart on a baking sheet.

Bake in the preheated oven until the tops of the cookies crack, about 9 minutes.
Per Serving: 151 calories; protein 1.4g; carbohydrates 21.8g; fat 6.7g; cholesterol 12.8mg; sodium 129.2mg.