Soft Sugar Cookies I These cookies are big, soft and excellent! Great with frosting too! We won't eat any other sugar cookie!
Ingredients
Original recipe yields 24 servings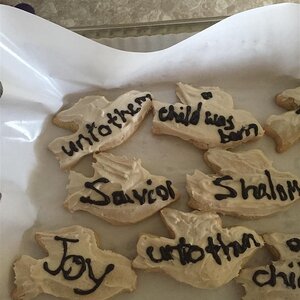 Combine milk with vinegar to make sour milk. Let stand for 5 minutes.

Advertisement

In a large mixing bowl, combine sugars, shortening, eggs, and vanilla. Add flour, soda, baking powder, salt, and nutmeg.

Stir in sour milk and mix well. NOTE: Dough will be very sticky and hard to handle. You could refrigerate it for a few hours, or just use plenty of flour when rolling out.

Roll on well floured board to 1/2 inch thickness. Cut with cookie cutters to desired shapes (large cutters work best).

Bake at 350 degrees F (180 degrees C) for 8 to 10 minutes or until lightly brown on bottom.

Frost with Sugar Cookie Frosting (see recipe) and decorate.
Per Serving: 231 calories; protein 3g; carbohydrates 34g; fat 9.4g; cholesterol 16.3mg; sodium 223.3mg.