Slow Cooker Garlic and Herb Pork Tenderloin Grilled slow cooker garlic and herb pork tenderloin with red skins.
Ingredients
Original recipe yields 4 servings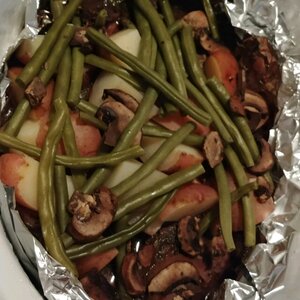 Preheat an outdoor grill for high heat, and lightly oil the grate.

Advertisement

Grill pork tenderloin until seared on each side, 2 to 3 minutes per side. Transfer tenderloin to a slow cooker; add potatoes, green beans, and water.

Cook tenderloin in slow cooker set to Low until pork is slightly pink in the center, about 4 hours. An instant-read thermometer inserted into the center should read at least 145 degrees F (63 degrees C). Season with salt and ground black pepper to taste.
Per Serving: 419 calories; protein 15.2g; carbohydrates 89.6g; fat 1.5g; cholesterol 12mg; sodium 45.7mg.