Simply Lemon Baked Chicken A whole roasting chicken sprinkled with fresh lemon and paprika, then slow baked with the lemon halves inside! This recipe is very easy and the chicken comes out moist and tastes great!
Ingredients
Original recipe yields 8 servings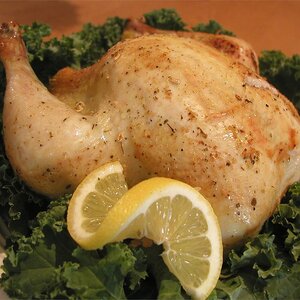 Preheat oven to 300 degrees F (150 degrees C).

Advertisement

Rub chicken with salt inside and out. Squeeze lemon juice from lemon halves over outside of chicken, then rub paprika over all. Place squeeze lemon halves inside chicken cavity, then place chicken in a lightly greased 9×13 inch baking dish. Pour a little water over chicken to prevent drying.

Bake at 300 degrees F (150 degrees C) for 3 hours, basting with water as needed.
Per Serving: 493 calories; protein 42.5g; carbohydrates 1.9g; fat 34.3g; cholesterol 170.3mg; sodium 1903.7mg.