Sausage and Mushroom Mini Pizzas Make dinner fun and delicious with these personal pizzas you can cook in the oven or on the grill.
Ingredients
Original recipe yields 8 servings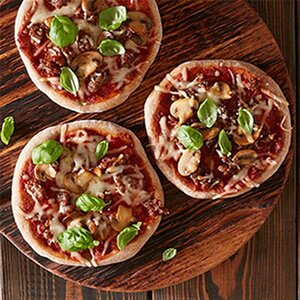 Preheat oven to 450 degrees F. Cover two large baking sheets with Reynolds Wrap® Heavy Duty Foil. Sprinkle with cornmeal.

Advertisement

Stir yeast into 1 cup warm water and let stand for 5 minutes or until puffy. In a large bowl, combine 1 1/4 cups whole-wheat flour, all-purpose flour, sesame seeds and salt; add yeast mixture and olive oil. Use a wooden spoon to stir dough together. Turn dough out onto a lightly floured surface. Knead in enough additional whole-wheat flour (1/4 -1/2 cup) to make moderately stiff dough that is smooth and elastic (3 to 4 minutes total).

Divide dough into 8 equal portions. Cover and let rest for 10 minutes. Roll each portion of dough on a lightly floured surface into a 6-inch circle. Transfer to prepared baking sheets. Prick the crusts with a fork. Do not let rise.

Bake about 7 minutes or until light brown. In a small bowl, combine pizza sauce and crushed red pepper. Top each crust with pizza sauce, then with sausage and mushrooms. Sprinkle with Italian blend cheese. Bake 5 minutes more or until cheese melts. If desired, sprinkle with Parmesan cheese and/or fresh basil.

To Grill: Line grill rack with Reynolds Wrap® Heavy Duty Foil. Preheat grill; reduce heat to medium-hot. Brush tops of dough circles with 1 tablespoon olive oil. Place dough circles, oiled sides down, on foil-lined grill rack. Cover and grill about 1 minute or until bottom is browned and firm. Transfer dough circles to a clean surface, grilled side up. Assemble pizzas and return to the foil-lined grill rack. Cover and grill 2 to 3 minutes or until bottom is browned and cheese has melted, rearranging pizzas as necessary to assure even browning.
Per Serving: 384 calories; protein 17.1g; carbohydrates 40.3g; fat 17.9g; cholesterol 31.8mg; sodium 693.6mg. Foil makes for easy cleanup, easy leftovers and easy reheating in the oven. When you're done, just wrap your leftovers in foil and store them in the fridge.