Roasted Apple Curried Chicken with Rice Chicken is bathed in a spicy honey mixture, then slow roasted with apples, onion and rice to make a delicious meal with little actual work.
Ingredients
Original recipe yields 6 servings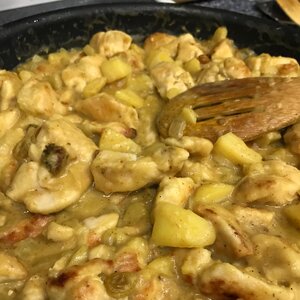 Preheat the oven to 250 degrees F (120 degrees C).

Advertisement

In a medium bowl, mix together the honey, maple syrup, curry powder, nutmeg, paprika, cayenne, and black peppercorns. Rub some of this mixture all over the chicken, including under the skin, and inside the cavity. Stuff the shallots, onions, and pieces of one apple into the chicken's cavity. Coat the remaining apples with the spice mixture, and place in a roasting pan. Place the chicken in the pan, and pour brown rice around the outside. Pour the water over the rice, making sure that all of the rice is down in the water.

Bake uncovered for about 5 hours. The chicken juices should run clear, and rice should be tender.
Per Serving: 1047 calories; protein 52.4g; carbohydrates 131.9g; fat 36.2g; cholesterol 123mg; sodium 131.3mg.