Queso Fresco Sugar Cookies I was inspired by other cookie recipes that use cream cheese so I decided to try it with something new – queso fresco! Quite possibly the best sugar cookies I've ever had!
Ingredients
Original recipe yields 36 servings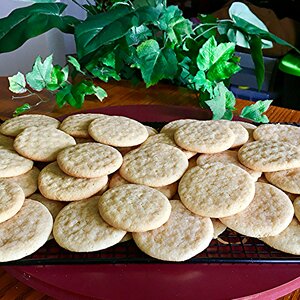 Preheat oven to 350 degrees F (175 degrees C). Line 2 baking sheets with parchment paper.

Advertisement

Combine flour, baking soda, baking powder, and salt together in a large bowl.

Beat sugar, butter, and queso fresco together in a large bowl. Add egg; mix well until combined. Mix in vanilla extract. Slowly mix in flour mixture, 1 cup at a time, until dough is thoroughly combined.

Shape tablespoonfuls of dough into balls and place 1-inch apart on baking sheets.

Bake in the preheated oven until set, 9 to 11 minutes. Cool on the baking sheets for 2 minutes. Transfer to wire racks to cool completely.
Per Serving: 108 calories; protein 1.7g; carbohydrates 15.3g; fat 4.5g; cholesterol 17mg; sodium 110.1mg.