Orange-Pear Green Smoothie with Bok Choy I am new to green smoothies and clean eating. Vegetables are not my thing but this smoothie is delicious once you get past the chunky leaf and skin from the grapes and pear! But if you put the blender on liquefy, it helps a lot.
Ingredients
Original recipe yields 2 servings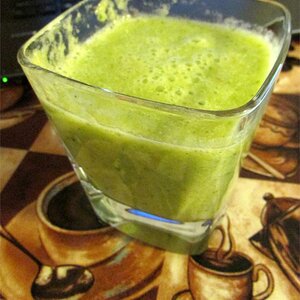 Combine pear, grapes, water, pineapple, banana, bok choy, kale, orange, ice, and mint in a large blender. Blend, starting on low speed and increasing to high, until smooth. Turn blender to liquefy setting for a smoother texture.

Advertisement
Per Serving: 170 calories; protein 2.4g; carbohydrates 43g; fat 0.9g; sodium 23.9mg.