Middle Eastern Cabbage Rolls This is a Middle Eastern or Arabic version of cabbage rolls stuffed with rice, almonds, and spices and served with a mint-flavored yogurt sauce.
Ingredients
Original recipe yields 6 servings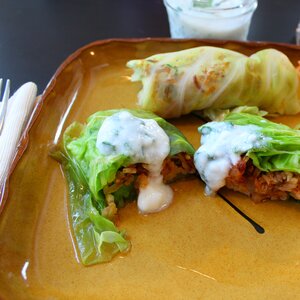 Preheat oven to 375 degrees F (190 degrees C). Grease a roasting pan.

Advertisement

Bring a large pot of lightly salted water to a boil. Add cabbage leaves and cook uncovered until softened, about 2 minutes. Drain in a colander and immediately immerse in ice water for several minutes to stop the cooking process. Drain. Cut off the rough end of the central stems.

Heat olive oil in a skillet over medium heat and cook onion until soft and translucent, 3 to 5 minutes. Add garlic and cook until fragrant, about 1 minute. Stir in tomato paste, almonds, and golden raisins; cook and stir for 2 minutes. Season with parsley, cumin, and ground cinnamon. Mix in cooked rice and season with salt and pepper.

Spoon a small amount of rice mixture into the center of each cabbage leaf. Fold sides over the filling and roll cabbage leaf up until the rice is encased. Repeat with remaining leaves and filling. Place the stuffed cabbage rolls in the roasting pan, seam-side down. Pour warm chicken broth over cabbage rolls.

Bake in the preheated oven until flavors are well combined, about 25 minutes.

Stir yogurt, mint, allspice, salt, and pepper together in a bowl. Refrigerate while cabbage rolls are cooking. Serve with the hot cabbage rolls.
Per Serving: 144 calories; protein 4.5g; carbohydrates 24.4g; fat 3.4g; cholesterol 2.8mg; sodium 290.8mg.