Mexican Tomato-Flavored Rice This recipe makes nice fluffy rice every time with great taste. It was given to me by my grandmother!
Ingredients
Original recipe yields 4 servings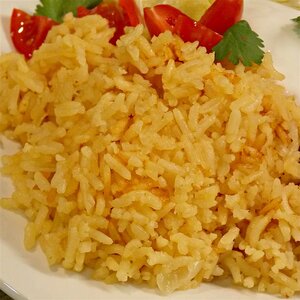 Heat oil in a saucepan over medium heat. Fry rice in hot oil until golden brown, 2 to 3 minutes. Stream water into the saucepan while stirring the rice; season with tomato powder, onion powder, and garlic powder and stir.

Advertisement

Bring the mixture to a boil and cook at a boil for 2 minutes. Reduce heat to low, place a cover on the saucepan, and cook until the moisture is mostly absorbed by the rice, about 15 minutes. Remove saucepan from heat and let sit covered to let last moisture be absorbed into rice, about 5 minutes more.
Per Serving: 240 calories; protein 3.8g; carbohydrates 39.7g; fat 7.1g; sodium 10.7mg.