King Prawn and Scallop in Ginger Butter Prawns and scallops in a ginger butter sauce with shredded carrot and leeks. Delicious served with plain basmati rice.
Ingredients
Original recipe yields 2 servings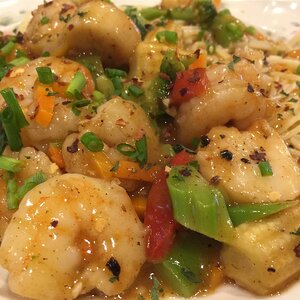 Bring the wine, vegetable stock, ginger, and garlic to boil in a skillet. Mix in the carrot and leek, and reduce heat to low. Simmer 5 minutes. Mix in scallops and prawns. Stir in the butter cubes. Continue cooking until butter is melted and scallops and prawns are opaque. Sprinkle with chives, and season with salt and pepper to serve.

Advertisement
Per Serving: 629 calories; protein 32.6g; carbohydrates 11.4g; fat 47.8g; cholesterol 282.6mg; sodium 481.6mg.