Jeera (Cumin) Rice This is a wonderfully cumin flavored rice that enhances the flavor of many a dull meal!! Some variations to this recipe that are delicious: after adding the cumin seeds add onion, ginger, whole black peppercorn, cloves, or a cinnamon stick. You could also add all of the above options to make a rice chock-full of tastes!
Ingredients
Original recipe yields 2 servings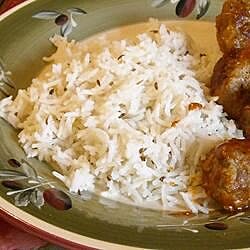 Heat the oil in a medium size saucepan over a medium-high heat. Drop in the cumin seeds, and cook until they splutter. Do not allow the cumin seeds to burn or become really dark brown in color. Add the rice and fry it in the oil for about 1 minute.

Advertisement

Add the water and salt and bring to a boil. Once the water is boiling, reduce the heat to low and cover the saucepan. Cook the rice for approximately 15 minutes. If you feel the rice is getting burnt near the base of the pan as it cooks, one trick is to place the saucepan on another flat pan or griddle which is directly on the flame. Toss with a fork.
Per Serving: 465 calories; protein 6.5g; carbohydrates 77g; fat 13.9g; sodium 0.9mg.