Jalapeno Scorpion Pigs If you like bacon, shrimp, and like things spicy (in this case fresh jalapenos), this is for you. It's great as an appetizer or a heavy hors d'oeuvre. Can also be made on the grill!
Ingredients
Original recipe yields 12 servings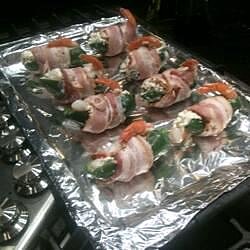 Preheat an oven to 375 degrees F (190 degrees C). Cut a slit in each jalapeno; remove the seeds and the stem.

Advertisement

Mix minced olives, chicken soup base, and cream cheese together in a small bowl. Transfer the cream cheese mixture into a piping bag, or a plastic sandwich bag with the corner snipped off. Pipe the mixture into the jalapeno pepper halves, filling each about 1/3 full. Press the cheese into the pepper with a spoon or finger.

Insert a whole shrimp with the tail facing up into the stem-side of the filled jalapeno pepper. If the shrimp does not completely cover the cream cheese, cut a small piece from another shrimp to fill the tip of the pepper. Fill the any remaining space of the pepper by piping on more cream cheese. Wrap each stuffed pepper with a slice of bacon, securing with a toothpick through the center. Repeat until all the peppers are filled.

Bake in the preheated oven until the bacon is browned and crisp, 25 to 30 minutes.
Per Serving: 334 calories; protein 21.5g; carbohydrates 2.1g; fat 26.3g; cholesterol 127.1mg; sodium 1186.1mg.