Instant Pot® Best Beef Stew This beef stew is the ultimate, hearty, melt-in-your mouth comfort food of all, and so easy to make in the Instant Pot® for a simple midweek dinner.
Ingredients
Original recipe yields 4 servings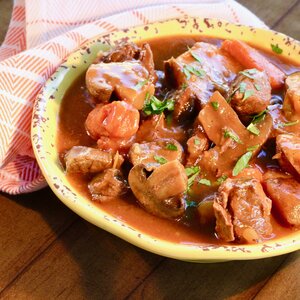 Turn on a multi-functional pressure cooker (such as Instant Pot®) and select Saute function. Melt butter and cook beef chuck cubes in batches until browned on all sides, about 5 minutes per batch.

Advertisement

Return all beef chuck to the pot. Add potatoes, mushrooms, onion, carrots, and garlic; cover with beef broth. Stir in Worcestershire sauce, tomato paste, salt, pepper, and rosemary. Close and lock the lid. Select Meat/Stew function according to manufacturer's instructions; set timer for 35 minutes. Allow 10 to 15 minutes for pressure to build.

Release pressure using the natural-release method according to manufacturer's instructions, 10 to 40 minutes. Unlock and remove the lid.
Per Serving: 352 calories; protein 20g; carbohydrates 32.2g; fat 16.4g; cholesterol 59.1mg; sodium 1320.5mg.