Hominy con Queso This is a very simple and easy creamy comfort food that we make at all of our Mexican family gatherings and is devoured every time.
Ingredients
Original recipe yields 6 servings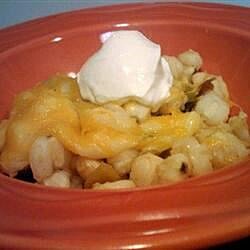 Preheat an oven to 350 degrees F (175 degrees C). Prepare a large baking dish with cooking spray.

Advertisement

Combine the hominy, mushroom soup, green chilies, and about half of the pepperjack cheese in a bowl; spread evenly into the bottom of the prepared baking dish. Sprinkle the remaining pepperjack cheese over the top of the mixture.

Bake in the preheated oven until the cheese is bubbling and beginning to brown, 30 to 35 minutes.
Per Serving: 447 calories; protein 19.3g; carbohydrates 27.3g; fat 28.6g; cholesterol 81.1mg; sodium 1304.3mg.