Grilled Sweet Potatoes I don't really like the traditional sweet potato casserole, but my son loves sweet potatoes, so I try to come up with different ways to cook them. This spring I tried grilling them. These are now a favorite of mine and my sons.
Ingredients
Original recipe yields 4 servings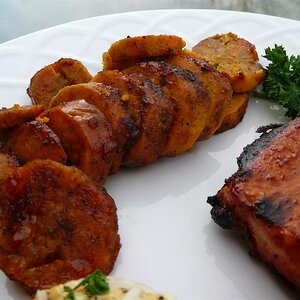 Preheat an outdoor grill for medium-high heat, and lightly oil the grate.

Advertisement

Divide the sweet potato cubes in half, and place each half in the center of a rectangle of aluminum foil. Top each portion with about half of the butter. Sprinkle about half of the brown sugar, cumin, and cayenne pepper over each portion. Season with salt and pepper. Fold the corners of the aluminum foil together and seal to form a pouch around each portion.

Cook on the preheated grill, turning pouches every 10 minutes, until the potatoes are tender and cooked through, 20 to 30 minutes.
Per Serving: 274 calories; protein 3.7g; carbohydrates 52.6g; fat 6g; cholesterol 15.3mg; sodium 168.6mg.