Dry-Rub Air-Fried Chicken Wings Yummy chicken wings made from a Memphis-style dry rub.
Ingredients
Original recipe yields 2 servings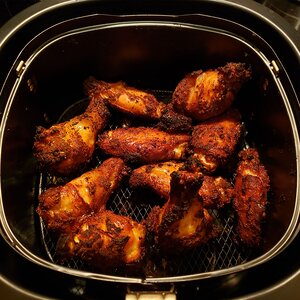 Preheat air fryer to 350 degrees F (175 degrees C).

Advertisement

Whisk together brown sugar, paprika, salt, garlic powder, onion powder, poultry seasoning, mustard powder, and pepper in a large bowl. Toss in chicken wings and rub the seasonings into them with your hands until fully coated.

Arrange wings in the basket of the preheated air fryer, standing up on their ends and leaning against each other and the wall of the basket.

Cook until wings are tender inside and golden brown and crisp on the outside, about 35 minutes. Transfer wings to a plate and serve hot.
Per Serving: 318 calories; protein 25.9g; carbohydrates 11.3g; fat 18.7g; cholesterol 77.3mg; sodium 1519.9mg.