Cucumber Chicken Roll-ups Easy to make cucumber roll-ups filled with a chicken mixture topped with crunchy Snack Factory® Pretzel Crisps®.
Ingredients
Original recipe yields 15 servings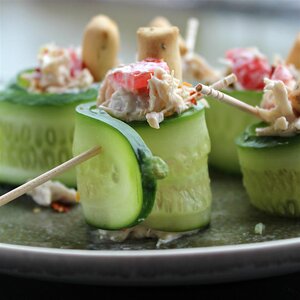 Slice cucumber halves lengthwise with a mandoline or knife into 1/8 inch thick long slices

Advertisement

Mix chicken, Neufchatel cheese, mayonnaise, green onions, tomato, red pepper flakes, and garlic salt together until well blended.

Lay cucumber slices flat on a work surface. Spoon two teaspoons chicken mixture on bottom (flat) edge of each slice; roll up. Secure with toothpicks and place rolls upright like cups on a serving plate. Push a Snack Factory® Pretzel Crisp® about halfway down into the chicken mixture.
Per Serving: 114 calories; protein 7.1g; carbohydrates 12.7g; fat 4g; cholesterol 20.6mg; sodium 346.5mg. Tuna can be easily substituted for the chicken.