Country Captain Chicken with Rice This is an easy dish to experiment with Indian cooking, assuming it is not a family tradition already. I learned it from my sous chef Robbie J. at Keswick Hall.
Ingredients
Original recipe yields 8 servings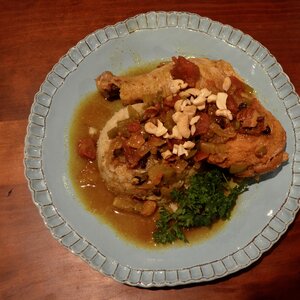 Season chicken with thyme, kosher salt, and black pepper.

Advertisement

Heat oil in a 5-quart Dutch oven over high heat. Place chicken pieces, skin-side down, in hot oil and cook until golden brown, 2 to 5 minutes. Transfer chicken to a plate; drain and discard oil.

Reduce heat to medium and add bacon to the Dutch oven. Cook and stir until bacon is browned and crispy, 7 to 10 minutes. Transfer bacon to a paper towel-lined plate. Chop into smaller pieces.

Cook and stir onion, celery, bell peppers, and garlic in the Dutch oven over medium heat until soft, about 10 minutes. Add chopped tomatoes, 3/4 cup reserved tomato liquid, currants, raisins, curry powder, butter, bay leaves, salt, and black pepper; bring to a simmer, reduce heat to medium-low, cover the Dutch oven with a lid, and simmer until sauce is thickened, about 30 minutes.

Preheat oven to 325 degrees F (165 degrees C).

Return chicken to Dutch oven and spoon sauce over the top. Cover the Dutch oven with a lid.

Bake in the preheated oven until chicken is tender, about 1 hour. An instant-read thermometer inserted into the thickest part of the thigh, near the bone should read 165 degrees F (74 degrees C).

Press 1/2 cup rice into a small bowl and invert onto a plate to remove. Set 2 pieces of chicken on rice and spoon sauce over the top. Repeat with remaining rice, chicken, and sauce. Garnish each with bacon, currants, peanuts, and parsley.
Per Serving: 783 calories; protein 28.2g; carbohydrates 28.9g; fat 62g; cholesterol 105.7mg; sodium 471.1mg.