Clayton's Pork Chops This recipe is so easy. My family loves it. The gravy is delicious served with rice.
Ingredients
Original recipe yields 6 servings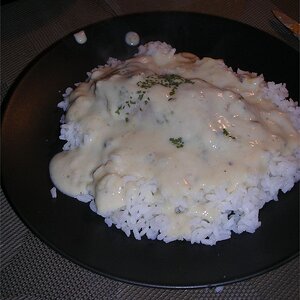 Preheat oven to 350 degrees F (175 degrees C).

Advertisement

Place pork chops in a 9×13 inch baking pan. Add the mushroom and celery soups. Stir to coat the pork chops.

Bake in preheated oven for 45 minutes, until meat is no longer pink inside and thermometer reads 145 degrees F (63 degrees C).

Remove from oven and stir sour cream into soup mixture. Sprinkle with French-fried onions. Serve immediately.
Per Serving: 442 calories; protein 17g; carbohydrates 20.6g; fat 31.5g; cholesterol 58.5mg; sodium 994.1mg.