Chicken in Garlic and Black Bean Sauce This classic Chinese stir-fry dish is not only delicious, but also very simple to make. Chicken is stir-fried with onions, peppers, and bean sprouts, then served in a garlic and black bean sauce.
Ingredients
Original recipe yields 6 servings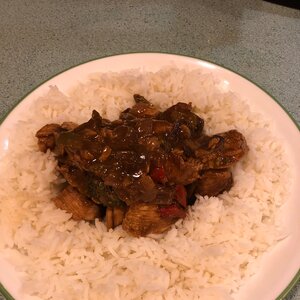 Mix 1 tablespoon cornstarch with 1 tablespoon water together in a bowl. Stir in soy sauce, sugar, and 1 teaspoon salt. Add chicken; toss to combine. Let stand to marinate, about 20 minutes.

Advertisement

Bring water to a boil in a saucepan. Add bean sprouts; cook just until blanched, about 30 seconds; drain.

Combine 1/4 cup water, oyster sauce, and sugar together in a small bowl.

Heat vegetable oil in a skillet over high heat. Add black bean sauce and garlic; cook and stir until fragrant, 2 to 3 minutes. Add onion and 1/2 teaspoon salt; cook and stir until soft, 3 to 4 minutes. Add marinated chicken; stir-fry until opaque and cooked through, 3 to 4 minutes. Stir in oyster sauce mixture; cook until heated through, 1 to 2 minutes. Cover and simmer until flavors blend, about 3 minutes. Stir in bell pepper; cover and cook until softened, 1 to 2 minutes. Dissolve 2 teaspoons cornstarch in 1 tablespoon water. Stir in bean sprouts and cornstarch mixture; cook until sauce is thickened, 2 to 3 minutes more.
Per Serving: 175 calories; protein 23.1g; carbohydrates 8.2g; fat 5g; cholesterol 58.5mg; sodium 848.6mg. Use any color of bell pepper you prefer for this dish.