Cherokee Chicken An unusual blend of flavors in a chicken dish. Serve over rice.
Ingredients
Original recipe yields 4 servings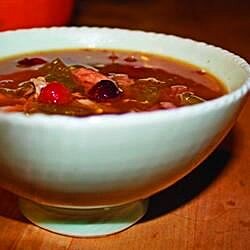 Pour oil into a large skillet over medium heat. Place chicken pieces in the skillet, and cook until golden on all sides, about 10 minutes. Discard all but 2 tablespoons of oil. Stir in green peppers, garlic, and onions; cook until soft, about 10 minutes. Pour vermouth into skillet. Stir in cranberry sauce, salt, and pepper. Cover, and simmer 25 minutes.

Advertisement
Per Serving: 548 calories; protein 26.3g; carbohydrates 24.4g; fat 37.6g; cholesterol 91.1mg; sodium 125.1mg.