Bison and Brown Rice Stuffed Peppers Green bell peppers are filled with ground bison, cooked brown rice, tomato sauce, and seasonings, then baked for an hour with additional tomato sauce and Italian-style seasoning.
Ingredients
Original recipe yields 6 servings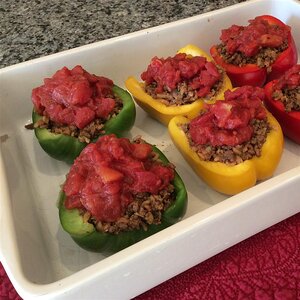 Preheat oven to 350 degrees F (175 degrees C).

Advertisement

Bring water and rice to a boil in a saucepan. Reduce heat to medium-low, cover, and simmer until the rice is tender and liquid has been absorbed, about 20 minutes.

Heat a large skillet over medium-high heat. Cook and stir bison in the hot skillet until browned and crumbly, 5 to 7 minutes; drain and discard grease.

Arrange bell peppers, cut-side up, in a baking dish. Slice bottoms of peppers if needed so they stand upright.

Mix rice, bison, tomato sauce, Worcestershire sauce, oregano, all-purpose seasoning, garlic powder, onion powder, salt, and pepper together in a bowl. Spoon rice-bison mixture into each bell pepper.

Mix diced tomatoes and Italian seasoning together in a bowl; pour over stuffed peppers.

Bake in the preheated oven, basting with diced tomatoes mixture every 15 minutes, until peppers are tender, about 1 hour.
Per Serving: 178 calories; protein 16.8g; carbohydrates 23.2g; fat 1.9g; cholesterol 38.7mg; sodium 364.9mg.