BBQ Chicken Sandwiches This is a wonderful BBQ chicken sandwich with homemade sauce. A perfect party food. You can use leftovers to make pizza.
Ingredients
Original recipe yields 12 servings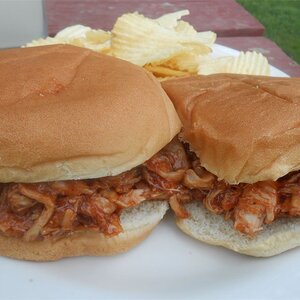 Place chicken in a large pot with enough water to cover. Bring to a boil, and cook until chicken comes off the bone easily, about 3 hours. Make sauce while the chicken cooks.

Advertisement

In a saucepan over medium heat, mix together the ketchup, mustard, brown sugar, garlic, honey, steak sauce, lemon juice, and liquid smoke. Season with salt and pepper. Bring to a gentle boil, and simmer for about 10 minutes. Set aside to allow flavors to mingle.

When the chicken is done, remove all meat from the bones, and chop or shred into small pieces. Place in a pan with the sauce, and cook for about 15 minutes to let the flavor of the sauce soak into the chicken. Spoon barbequed chicken onto buns, and top with coleslaw if you like.
Per Serving: 662 calories; protein 47.9g; carbohydrates 51.4g; fat 29g; cholesterol 136.8mg; sodium 956.2mg.