Basa (Swai) Fish in Coconut Sauce Basa is a mild white fish. This recipe is very quick to make. I serve it with a side of coconut rice to use up the rest of the coconut milk in the can and the fish is done before the rice finishes cooking.
Ingredients
Original recipe yields 4 servings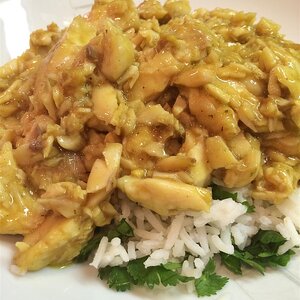 Mix coconut milk, garlic, soy sauce, salt, hot sauce, and black pepper together in a large skillet or wok; add swai fish. Cook over medium-high heat until fish flakes easily with a fork, about 10 minutes.

Advertisement

Stir cornstarch and cold water together in a bowl; mix into fish mixture and cook until sauce is thickened, 2 to 3 minutes.
Per Serving: 248 calories; protein 18.8g; carbohydrates 3.7g; fat 17.7g; cholesterol 53.4mg; sodium 364.8mg.