Apricot Chicken I Tangy, fruity chicken made in just 3 easy steps! It's great served with rice.
Ingredients
Original recipe yields 6 servings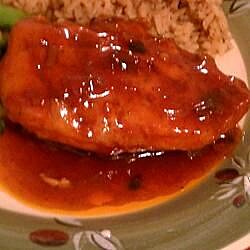 Preheat oven to 350 degrees F (175 degrees C).

Advertisement

Place the chicken pieces in a 4 quart casserole dish. Mix the soup mix, dressing and jam together, and pour over the chicken.

Cover dish and bake for 1 hour in preheated oven.
Per Serving: 456 calories; protein 28.5g; carbohydrates 55.7g; fat 13.8g; cholesterol 68.4mg; sodium 1134.3mg.