Acai Papaya Bowl A thick acai smoothie blended with orange juice, papaya, and bananas, poured into a half a papaya, then topped with granola and sliced bananas. Add any other fresh fruits you wish! An extremely healthy breakfast or treat!
Ingredients
Original recipe yields 2 servings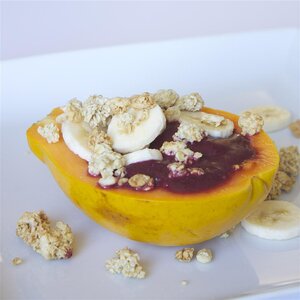 Halve and seed papaya. Scoop out a little extra meat to create a bowl shape.

Advertisement

Blend 1 banana, acai pulp, and orange juice together in a blender until smooth; divide mixture between papaya bowls and top with granola and remaining 1/2 banana.
Per Serving: 367 calories; protein 6.4g; carbohydrates 55.6g; fat 13.5g; sodium 40.3mg.